FACTOR-IN/FACTOR-OUT™
We've scoured supermarkets and restaurants to find healthy 

F

–

Factor®

 approved food swaps for high-calorie favorites. Now you can satisfy your cravings without sabotaging your waistline.*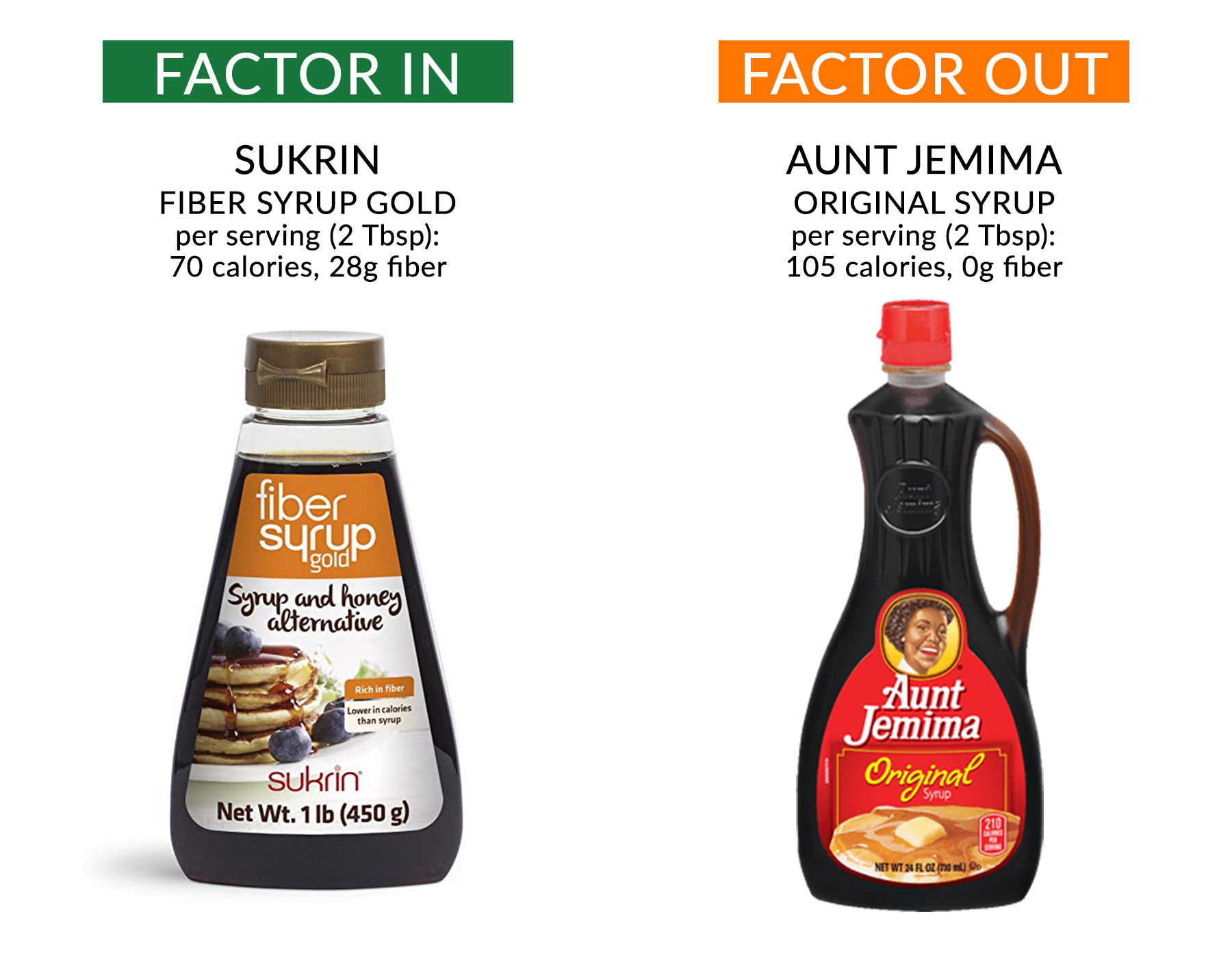 A sticky situation, solved. 
Pancakes without syrup is like a roll without butter; edible, and delicious, but just not the same. Nothing compliments a short stack of silver dollars like good 'ol maple syrup, but the sweet sticky stuff is sweet for a reason: sugar, and lots of it. Just 2 measly tablespoons of Aunt Jemima's Original Syrup adds an extra 16g of sugar to your pancakes or waffles. That's more sugar than an entire cup of Halo Top's "Pancakes and Waffles" flavored ice cream. Take a moment to visualize that: in terms of sugar, 2 tablespoons of syrup drizzled on top your stack of flapjacks is MORE than HALF A PINT of Halo Top just dumped right on top of them. Can you say, thank you, next. 
Fortunately, there is a sweet solution to this sticky situation. It's a product called Fiber Syrup Gold, by the company Sukrin. Self-described as a "syrup and honey alternative," Sukrin Fiber Syrup Gold is really setting a new gold standard for syrups. With only 3g of sugar per serving, Sukrin contains 81% less sugar than Aunt Jemima's syrup—and 33% less calories too.
Most importantly, where Surkin really goes for the gold is in the fiber department. For those who don't know, most syrups are completely devoid of the important nutrient, which is what makes it so amazing that Surkin is jam-packed with it. A 2 tablespoon serving of Sukrin contains a whopping 28g of fiber! And because fiber is the indigestible part of a carbohydrate, those 28g of fiber bring the net carb total for a serving down to just 3g. This remarkable fiber content is achieved by the use of plant fibers known as isomaltooligosaccharides (IMO). IMO's have a low glycemic index, are prebiotic and have been shown to promote the growth of beneficial bacteria in the gut. So yes, this type of gold just keeps getting better! Lastly, Sukrin's syrup is free of any artificial colors, additives or preservatives. Nothing surreptitious (or should we say syrup-titious) about it, if you want a touch of sweetness with some fiber, this is the syrup for you! 
THIS PRODUCT IS A STEP 1 FOOD.
TO JOURNAL THIS FOOD: Sukrin Fiber Syrup Gold (2 Tbsp) – 31g carbohydrate, 28g fiber 
*Are you interested in having a product featured in Factor-In/Factor-Out? Contact Jessica Rossman for details.