EGGcellent!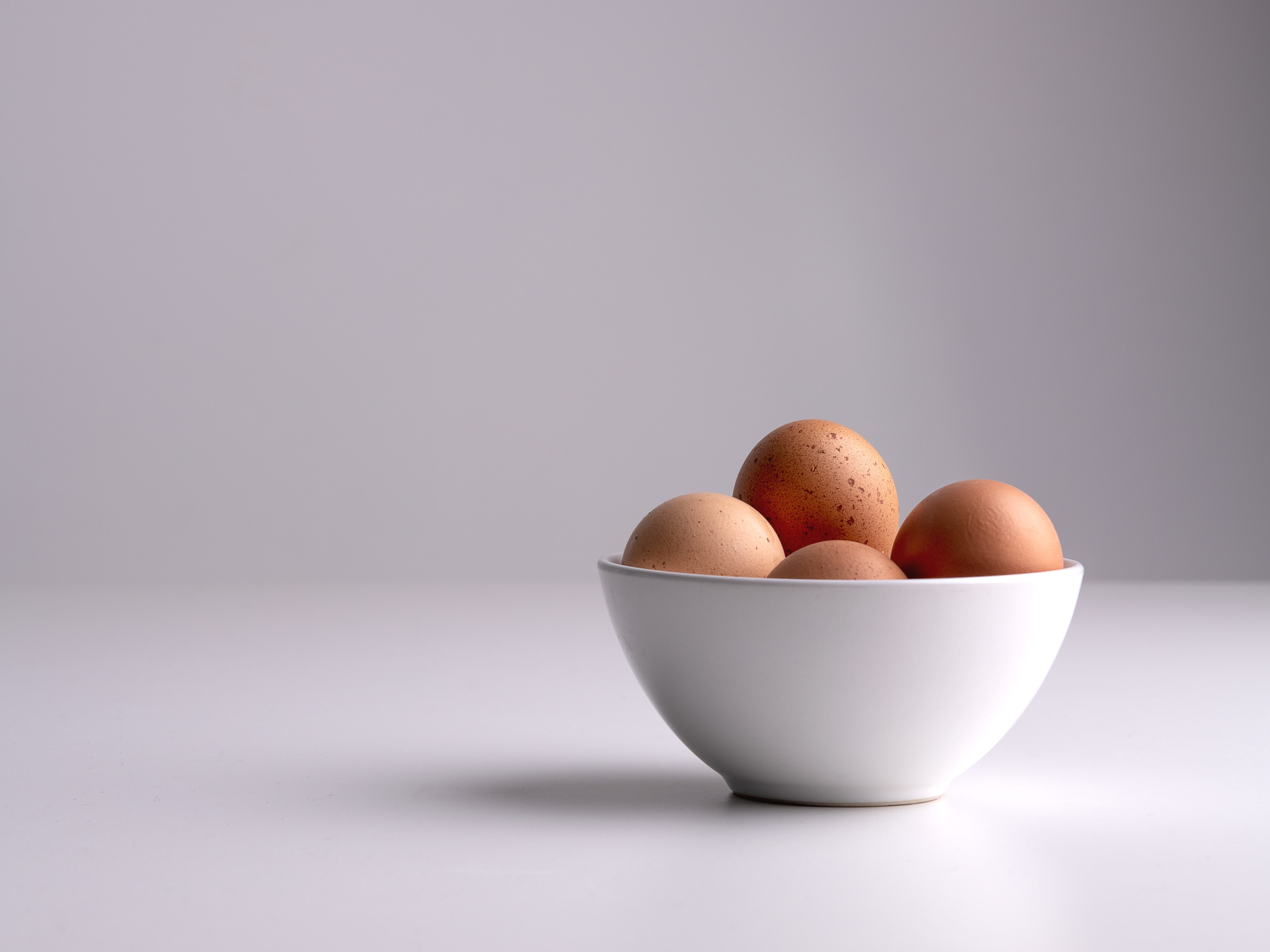 Here at F-Factor, we're all for eggs. Nutritionally speaking, they're well, eggcellent. They're full of vitamins and minerals, like the B vitamins, riboflavin, folate and vitamin E and are a great source of protein–1 whole egg packs in 7g protein for just 80 calories. What's more is that they make it really easy to make healthy, filling meals. A versatile source of lean protein, eggs can be used for any meal of the day. Have an omelet for breakfast, hard boiled eggs in your salad at lunch, and finish it off with a frittata for dinner. And because eggs last a while, (3–5 weeks in the fridge with proper storage!) they're just great to always have on hand. 
When it comes to actually making eggs, getting out a pan and turning to the stove is usually the first things that come to mind. But maybe you don't have a stove (college dorm cough cough). Or maybe you do, but maybe your favorite pan is dirty and you just don't feel like doing the dishes before you get your egg-sammy on. Whatever the reason, you're in luck because truth be told you don't need a stove or a pan at all to make eggs. Thinking outside the box, some of the most quintessential kitchen essentials become multi-use tools that you can use to cook eggs. Skip the skillet and say "so long!" to your stove, here's 6 different things you can use in your kitchen to make eggs: 
MUFFIN TINS
Muffin tins let you bake portion control right into whatever it is you're making. Whether you want to call them egg (/egg white) bites or mini frittatas, this way of cooking eggs is great if you're throwing a brunch party, or have a handful of mouths to feed. Also, because each muffin cup is relatively small in size, cooking time is cut down. To make, pour eggs/egg whites (mixed with different vegetables and add ins) into muffin tins coated with nonstick cooking spray until they're about 3/4 of the way full, and bake at 375°F for 8-10 minutes. If you use a mini-muffin tray cooking time will be cut down even further. Either way, watch and remove from oven when they puff up and just begin to set in the center. Need more direction? Try this recipe. PRO TIP: Make a big batch all at once and freeze leftovers, so you'll have breakfasts on hand ready with just a zap in the microwave. 
SHEET PAN / RIMMED COOKIE SHEET
This way of making eggs yields quite the wow-worthy dish, but is actually so simple to accomplish. All you have to do is lay a bed of leafy greens like kale out on a sheet pan coated with nonstick cooking spray and crack eggs right on top. Sprinkle some salt and pepper atop, add other flavorful veggies (red onion, shaved Brussels sprouts, broccoli, sun dried tomatoes) or add-ins (feta, goat cheese, turkey bacon) as desired and pop into the oven to bake. 375°F for 15 minutes should do and voila: picture perfect sunny-side up eggs over a bed of leafy greens ready for your consumption. 
THE MICROWAVE
The microwave is your friend! You can make scrambled eggs with veggies and cheese in just minutes, with less mess too! To make scrambled eggs in the microwave just whisk eggs/ egg whites as you normally would for the stove, except instead of adding to a pan use a microwave-safe bowl or mug (coated with a little nonstick cooking spray). You may want to add a splash of milk to keep the eggs moist, and your favorite veggies (already cooked veggies work best), cheese and salt and pepper for flavor, as desired. Give your mixture a quick stir and pop in the microwave to cook on high for 45 seconds to 1 minute. Remove from microwave, stir, and microwave for 30-45 seconds more. If eggs are still uncooked, pop back in and repeat at 3
0 second intervals until cooked to your liking (larger amount of eggs will take slightly longer than if you're using just 1-2 eggs). Either way, let eggs sit for a minute before eating.
WAFFLE IRON
This one is super simple. Just turn your waffle iron on to heat as usually would, coat with nonstick cooking spray and pour beaten eggs/ egg whites in (so that it's about 3/4 full) and cook according to manufacturers directions. You can add cheese, herbs like parsley, and other diced add-ins like ham, bell peppers, mushrooms, and onions when cooking eggs with this method too. 
COFFEE POT
Not to be confused with a Keurig, an actual coffee pot can take the "hard" out of hardboiled eggs. To hard boil eggs this way, put water into the reservoir (1 1/2 cups for 2 eggs, 4 cups for 6 eggs) and close the lid. Gently place eggs in coffee pot and turn coffee maker on. Hot water will drip slowly over the eggs. Once eggs are fully submerged, allow to cook in glass coffee pot for another 10-12 minutes (or 5-6 minutes if you want soft-boiled eggs). Remove coffee pot from maker to pour hot water out into sink and pour cold water over your now hard-boiled eggs so they cool. Once fully cooled, peel as usual and enjoy. PRO TIP: Take your now hardboiled eggs and make this lightened up version of avocado toast. 
CASSEROLE DISH
Another "one-pot" recipe, using a casserole dish to bake eggs in the oven minimizes dirty dishes because it can all be prepared and baked in 1 casserole dish. This method is also great if you're making a bigger batch of eggs (as opposed to a single serving) because you will need to use enough eggs to cover the bottom of the casserole dish. Simply coat casserole dish with nonstick cooking spray and throw eggs/ egg whites in with whatever vegetables and add ins you like. Give it a big stir so everything is evenly distributed pop in oven to bake at 350°F. Cooking times will vary based on the amount of eggs you use, but figure about 20-25 minutes for 4-6 eggs, or about 45-1 hour minutes for +8 eggs. 
Now, who's EGGcited to get cooking??!