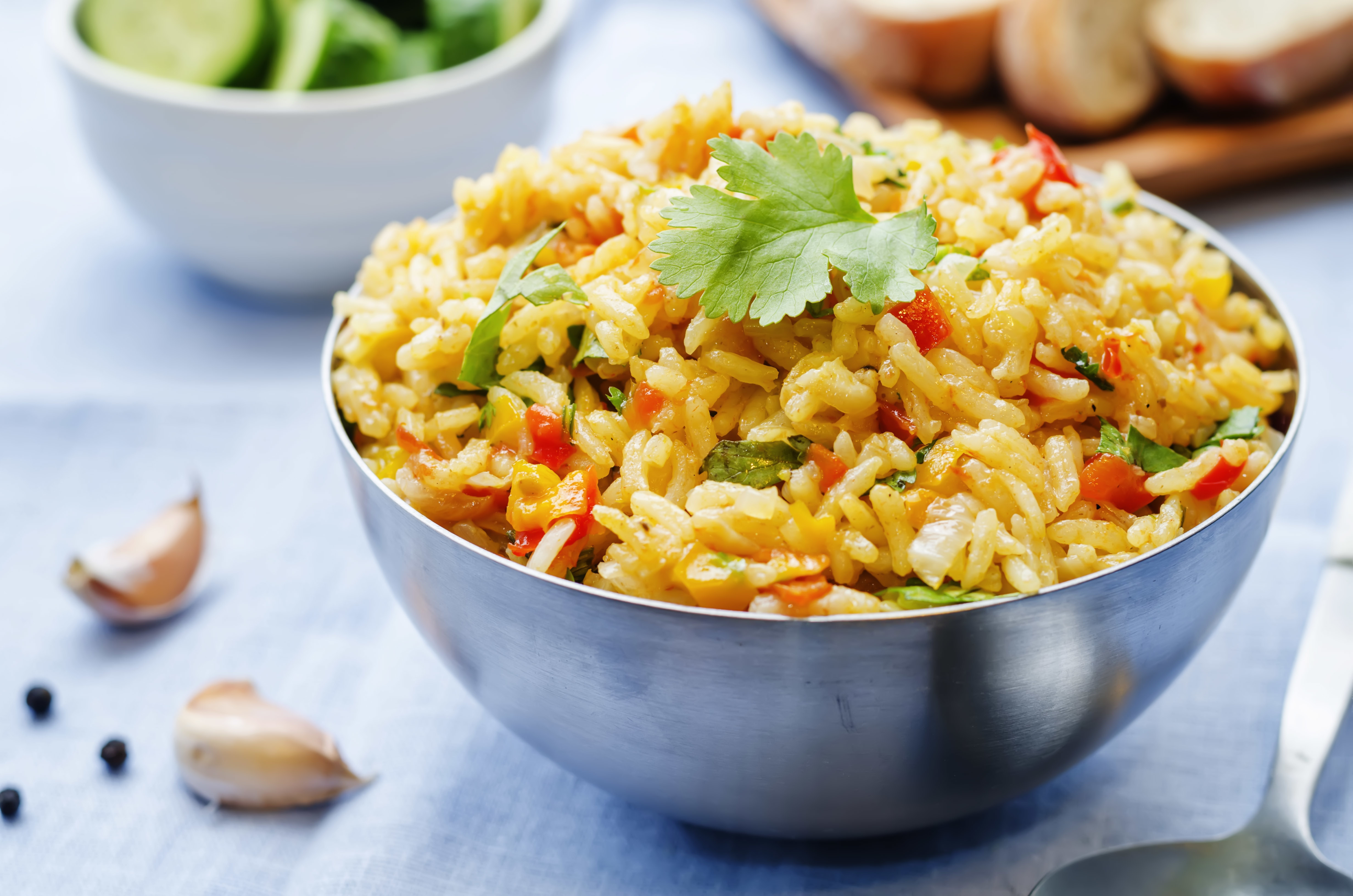 Vegan, vegetarian, AND virtually carb-FREE—is it a miracle? Your taste buds will surely think so—and so will your eyes: the saffron in this dish gives it the most gorgeous yellow hue and a richness of flavor that won't disappoint. For a more rice-like shape, substitute the Miracle Rice for Better Than Foods' Better Than Rice (1 14-oz package for the 2 Miracle Noodle Miracle Rice packages). Whichever you choose to use will provide you with miracle of a dish that's rich in Spanish flavors but NOT carbs! ¡Olé!
INGREDIENTS (serves 6):
¼ tsp saffron threads
2 (8-oz) packages Miracle Noodle Miracle Rice
2 Tbsp extra virgin olive oil
1/2 cup diced onion
1/4 cup water
1 tsp minced garlic
1½ cups diced fresh tomato
1/2 cup orange or red bell pepper, seeded, stemmed and diced
1/4 jalapeño pepper, seeded, stemmed and minced (optional, to taste)
½ tsp coriander
1 tsp kosher salt
¼ tsp freshly ground black pepper
2 Tbsp minced cilantro for garnish (optional)
PREPARATIONS:
Place a few tablespoons of warm water into a small bowl and add the saffron threads to steep.
Place Miracle Rice (or Better Than Rice) in strainer and rinse with warm water for a few minutes. Place rinsed wet rice in a separate bowl from the saffron threads and cover with paper towel to soak up excess water. Set aside.
Preheat oven to 375 °F.
Add oil to a small Dutch oven (or other oven proof pan with a lid), and place over medium-high heat to heat.
Add onions and sauté for 2 minutes.
Lower heat to medium and add rice. Stir often for about 2 minutes.
Add water and all other ingredients including the bowl of saffron threads with water and stir to combine.
Cover and place in preheated oven for 30 minutes.
Remove from oven and keep covered for five more minutes.
Fluff with a fork, garnish with optional chopped cilantro and serve.