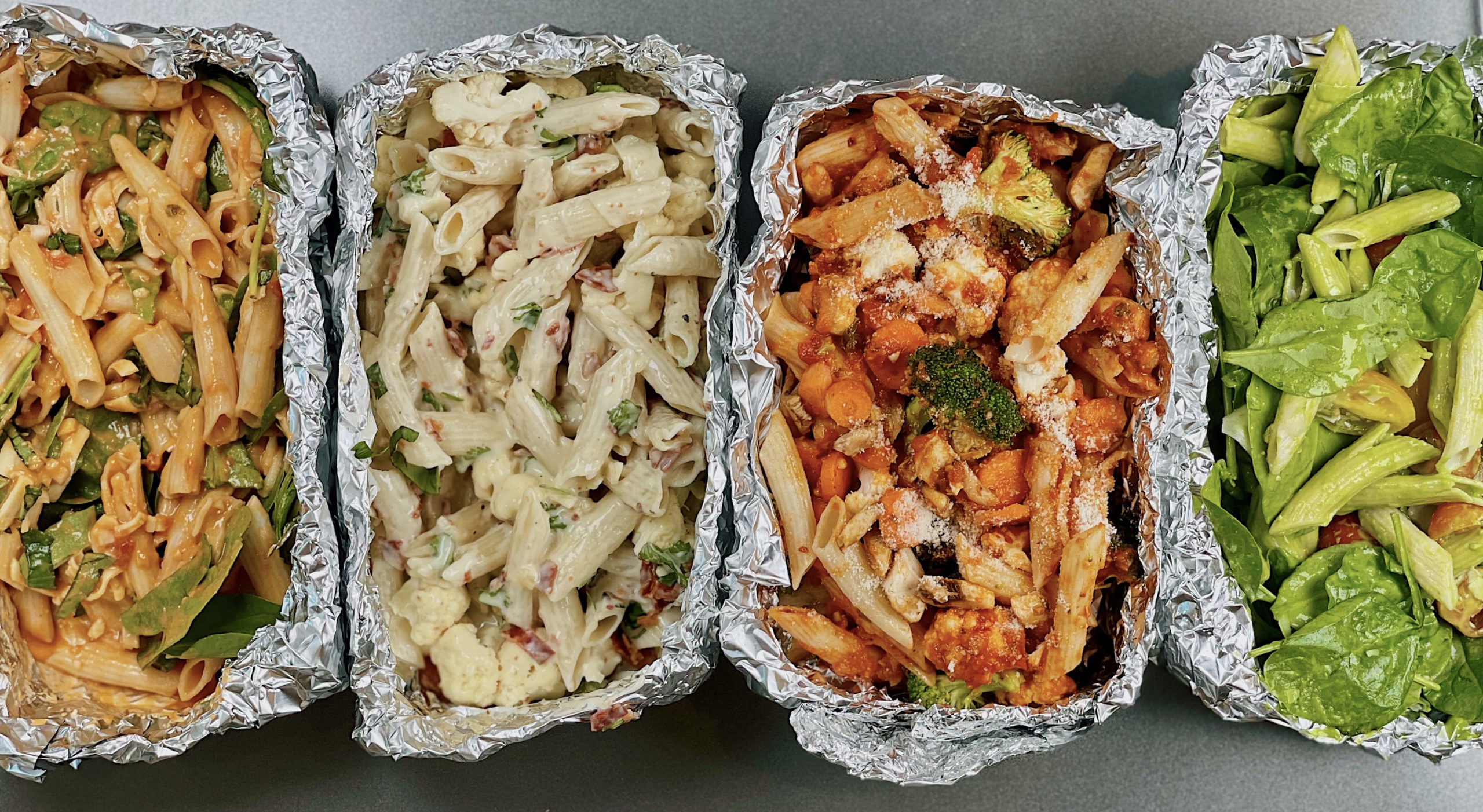 Entire recipe below uses 1 whole (8-oz) bag Fiber Gourmet Light Penne to make 4 unique single-serve "penne boats". Each flavor penne boat outlined below serves 1. Make one of each, an entire tray of the same, or just 1 or 2 flavors below! 
INGREDIENTS (serves 4):
SPICY PASTA PRIMAVERA
1 1/2 cups Fiber Gourmet Light Penne, cooked*
1 cup Carbone Arrabbiata Sauce
1/2 cup mushrooms
1/2 cup broccoli florets
1/2 cup cauliflower florets
1/2 cup carrot, diced
Chili flakes, to taste
BASIL PESTO PENNE
1 1/2 cups Fiber Gourmet Light Penne, cooked*
1/4 cup F-Factor Creamy Pesto Sauce
1 cup cherry/grape tomatoes, halved
1 cup spinach
2 Tbsp grated Parmesan cheese
PENNE A LA VODKA
1 1/2 cups Fiber Gourmet Light Penne, cooked*
1 cup spinach
1/3 cup part-skim shredded mozzarella cheese
Fresh basil, to taste
1-2 Tbsp shallots, diced
PENNE ALFREDO WITH BACON
1 1/2 cups Fiber Gourmet Light Penne, cooked*
1 cup F-Factor Alfredo Sauce
1 cup riced cauliflower
2 slices bacon, crumbled
1 Tbsp fresh parsley, minced 
PREPARATIONS:
Prepare penne according to pasta directions so that it is al dente (2 oz/ 1/4 bag for each penne boat).
Preheat oven to 400ºF.
Create penne boats: take 2 sheets of aluminum foil (~12×12-inch) and place 1 of top of the other. Fold one side of the foil about ⅓ of the way across sheet, take the opposite side and fold 1/3 of the way across. Pinch the corner to form a point and then flatten it to the short side of the foil, so that the corner is raised. Repeat for all four sides and continue to make 4 boats, or as many single-serve boats you are preparing. Place foil boats on a rimmed baking sheet.
Place penne in foil boats. Add remaining ingredients of each flavor to each of the foil boats. Stir.
Place in oven to bake for 12 minutes. Remove from oven and allow to cool (~10 minutes).
Serve or store, covered, in refrigerator for 3-5 days.
NUTRITIONAL CONTENT PER SERVING

Entire "tray" (any 4 penne boats made with 1 (8-oz) bag Fiber Gourmet penne used) serves 4, 1 penne boat per serving. Each individual penne recipe serves 1. This is a Step 2 recipe. Click the + to view nutritional content per serving & journaling information for each flavor penne boat.
Shop 20/20 Fiber/Protein Powders
*Note: 2 oz  (1/4 8-oz bag) Fiber Gourmet Penne Light uncooked = 1 1/2 cups cooked Fiber Gourmet Penne Light